Word cannot open this document. The document might be in use, the document might not be a valid word document, or the file name might contain invalid characters.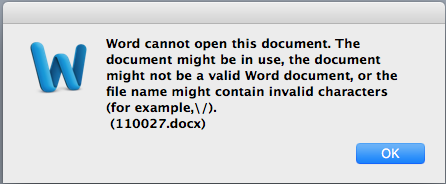 If you're receiving this error, send along your document to
fixmsword@rehmann.co
and I will see if I can recover the text for you. If there is enough demand, I will build an online tool to recover documents from this error.
Filetypes receiving this error may include: doc, docx, msword, dot, dotx, rtf, docm, dotm